Pictures from my China Trip, 09/21/04 - 10/02/04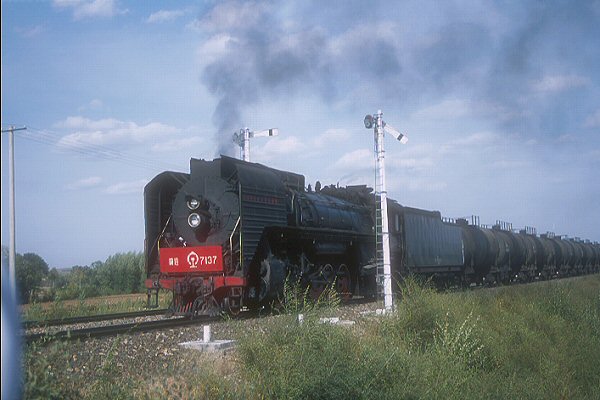 Page 1 of photos: Dahuichang limestone quarry, Beijing tourist spots, Beijing railroad museum, Benxi steel works.

Page 2 of photos: Sheyang railroad musem, train from Tongliao to Reshui, Daban.

Page 3 of photos: On JiTong Pass.

Page 4 of photos. On JiTong Pass.

Page 5 of photos. Railroad scenes from China.

Page 6 of photos. Sights from the trip.

These pictures are from a group tour I took to China between 09/21/04 and 10/02/04 hosted by Trains Unlimited Tours of Portola, CA. The main attraction of this trip was a visit to the rail line over JiTong Pass in northern China. This is a new railroad, just opened in 1995, but it is quite unusual as it was built to the standards of a U.S. railroad in the 1940s: semaphores, almost completely manual operation, and, most unusually, 100% powered by steam engines, along with the facilities to service them. By September, 2004 the eastern and western ends of this line had seen their steam engines replaced with diesels, and the word was out that the remaining steam was on borrowed time as well. This trip was a journey to see this line operated by steam while we stil could. And our timing was good: we may have seen the last day of 100% steam-powered operations over the pass on 09/30/04.

This trip also allowed us to visit two other steam-powered operations in Dahuichang and Benxi, to see the large railway museums at Beijing and Sheyang, to see the tourist sites around Beijing, and to experience the out-of-the-way areas of northern China, where westerners are still a rare sight.

I welcome any corrections or additions to the captions on these pages.

Please e-mail me with any questions or comments. . Thanks.